How Does SAP Analytics Cloud (SAC) Help in Business Intelligence
Making informed business decisions in real-time is the need of the hour for modern enterprises. SAP Analytics Cloud (SAC) can help SMEs achieve this objective. As a cloud-based solution, SAC enables users to create reports in real-time and analyze the data for meaningful insights. It further helps in making effective decisions.
You May Also Read:
In this article, we will see the major benefits of the SAP analytics cloud along with its key features. Let's start with the introduction.
What is SAP Analytics Cloud?
Internally known as a Project Orca, (SAC) was given various names like SAP Cloud for Planning, SAP Cloud for Analytics, and SAP BusinessObjects Cloud in the initial years of release. SAC is built on the SAP HANA Cloud Platform back in early 2015 with the name SAP Cloud for Planning. Today, it is a flagship product of SAP's EPM suite.
When it comes to saving time and effort while making meaningful decisions, (SAC) remains a preferred option for SMEs worldwide. As a top-notch SaaS (System as a Service) solution, SAC combines all the functionalities related to data analytics including planning, business intelligence, and predictive analysis. Corporate users can get all the features in an intuitive interface.
How does SAP Analytics Cloud Work?
The (SAC) platform has structures known as models. These models have different dimensions in which companies can manage their accounts, organizational structure, or any other necessary aspects for planning or evaluating the outcome. The SAC has two types of models- Planning and Analytics. The planning model enables the management to execute planning activities whereas the analytics model can perform an analysis of the data collected during various activities.
One of the major advantages of the SAP Analytics Cloud for BI (Business Intelligence) is users can create models themselves simply by importing a file from their computers and getting the necessary data from any cloud-based app like Google Drive. It is also possible to connect with a data source like SAP BW, SAP HANA, or SAP Universe for fetching the necessary data from different processes.
It can analyze the data and recommend the best way to visualize it for users. It is also possible for users to modify the chart type or the format before sharing it. On the other side, SAC facilitates users to configure formulas for different accounts while managing various currency conversion tables for ensuring accurate planning.
SAP Analytics Cloud for business intelligence was transformational. It allows real-time updates to our plans, collaboration across the organization, advanced analytics, and one-click visualization
Some of the characteristics of SAC for BI include-
Management of multiple data scenarios at once
Creation of tasks and setting up reminders for timely process completion
Collaboration across the application is based on any element
Conversation-based task creation
Let's understand the way SAP Analytics Cloud helps companies with Business Intelligence.
How SAP Analytics Cloud Helps in Business Intelligence
The SAP Analytics Cloud platform is designed for providing advanced analytics and business intelligence functionality. It has intuitive self-service analytics for exploring data across different departments of your organization. The platform delivers insights based on the collected data to improve the decision-making process. Here are the four top ways SAC helps with business intelligence.
Exploration and Visualization of Data
Users can discover insights and share data stories with interactive visualizations to inspire customers. Irrespective of data volume, SAC can enable users to explore and visualize collected data.
Self-service Data Modelling
It is possible to set key performance metrics and dimensions in SAC to automate data wrangling. It assists companies to gain deeper insights for making critical decisions in real-time.
Simulated Environment
SAP analytics cloud implementation facilitates the management to simulate any scenario and visualize the impact of decisions. It further results in improved outcomes for your business.
Augmented Analytics
Machine-generated analytics and insights are useful in making data-driven decisions. We can say it augmented analytics, which is more accurate and based on real-time data collected by the SAC platform.
Level Up Your Business With SAP Analytics Cloud
SAP Analytics Cloud is Compatible With:
It has many advanced features and it is compatible with different data sources and types. Let's dig deep into the compatibility of the platform.
Data Sources
You can connect your existing infrastructure to tens of hundreds of different data sources through SAC. Whether data sources are on-premise or cloud-based, it is possible to get connected using the SAC platform. Enterprises can leverage the benefits of SAP Analytics Cloud by getting connected to sources like CRM systems, email-based databases, and even Magento-like eCommerce platforms. SAC can fetch the data from all these sources and analyze it for providing users with actionable insights.
Data Types
Companies generate zillions of data every day in multiple ways. SAC can capture the corporate data in all major formats including text, images, video, and audio. What's more, it is possible to analyze unstructured sets of data like social media streams with the help of the SAP Analytics Cloud platform. The platform can be seamlessly integrated with Tableau Server (version 8.2 or later) and Tableau Online (Version 10 or later) to visualize data from the cloud without using any additional software or app.
Data Integrations
You can easily integrate the SAC with the leading consolidation tools. These tools can give a single source of information for all the business data. Both SAP and third-party providers like Informatica and Trifacta offer solutions for ensuring seamless data integrations. It is, however, advisable to consult a reliable and experienced SAP Partner to integrate SAC with consolidation tools.
Features of SAP Analytics Cloud
It is a leading player in the world of data visualization, analytics, and predictions. This platform gets regular updates for interesting features and performance enhancements. Here are the top five features or aspects of the SAC platform for enterprise users.
SaaS-based Product
SAP, a renowned enterprise resource planning software vendor, takes care of the IT administration of SAC. Be it scheduled maintenance, server upgrades, or updates in software, SAP carries out changes for (SAC) without involving customers. In other words, users can get new functions and enhanced performance as a hint of a quarterly update in the SAC software. Also, users can access SAC using web browsers or mobile apps because of the cloud approach.
Analytics Designer
The story environment and the Analytics Designer are major characteristics of the SAC dashboard. Power users can utilize SAC Story for visualizing the data quickly and easily. Widgets, tables, charts, and other standard components can make the visualization more interactive and appealing for users. Features like the "Optimized Story Viewer" can improve the user's experience and as a result, you can get higher efficiency and productivity over the period.
Business Content
Since the first release of an enterprise solution, SAP has gained fame for offering business content. In the case of SAC, the Business Content Center has many "out of the box" scenarios for easy adoption and a good introduction to various topics. For example, an operational workforce planning scenario is predefined and it can be easily adapted to specific requirements of your company. Another advantage is that SAC offers the whole model and processes in the business content segment.
Planning & Prediction
SAP analytics cloud BI is known for offering excellent planning functionality based on accurate prediction. The expansion in the options of collaboration, improved planning options, an integrated calendar, and a comment section are some of the major changes done in the SAC platform. Talking about predictive functionalities, users can get various models and define different focal points in model training to get new insights. In a way, it becomes possible to determine the planning values by using "Create Predictive Forecast."
Platform-like Architecture
The acts as a platform that brings data from various sources to a single point. What makes SAC platform advantageous is the fact that its connectivity options keep on expanding. For example, the platform introduced a "New Model" in 2021 for creating new modeling options for "Acquired Data". The Live Connections are also being improved continuously. Users can create their story dashboard without worrying about the control of data access with the help of a live connection.
You May Also Like: Top Five Business Benefits of SAP Cloud Platform for Your Company
Benefits of SAP Analytics Cloud for Business
Here is a glimpse of a few key benefits of SAP Analytics Cloud for businesses across the world.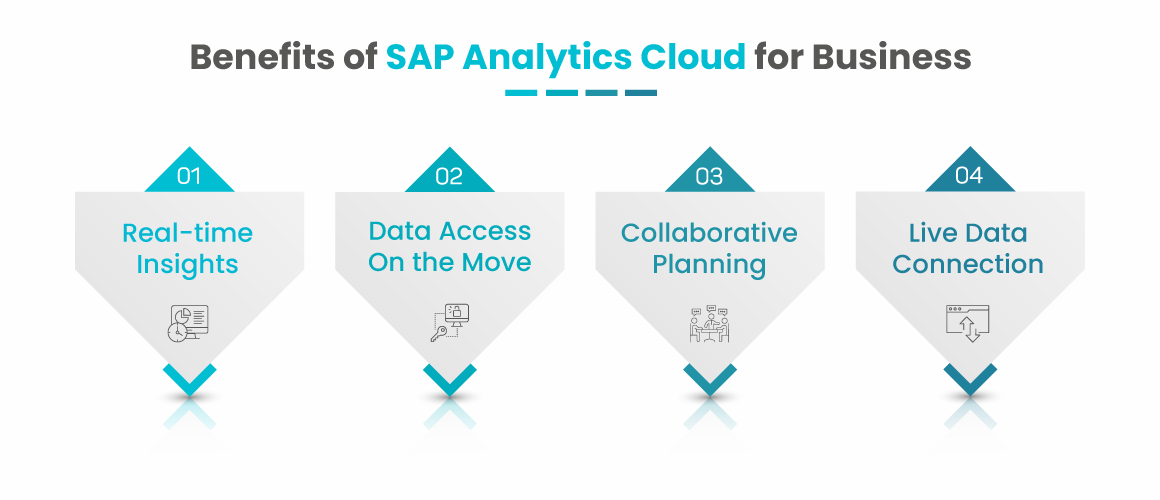 Real-time Insights
SAC is based on the cloud, and therefore, it makes it possible for companies to use analytical tools as and when necessary. Also, SAC comes with the native language functionality that further makes it easy for corporate users to generate immediate and real-time insights. In any organization, users of every level can get insights easily using the SAC platform and improve their decision-making process.
Data Access On the Move
SAC is an advanced component of SAP's intelligent toolkit. It can be deployed to both Android and iOS devices. As the platform is based on the cloud, any users can access the corporate data from anywhere and any time. This real-time data access can assist businesses to increase productivity and efficiency with improved services.
Collaborative Planning
The core objective is to bind different business aspects to one platform. Companies can make better planning for the near future because of this objective. SAC combines all major departments including sales, supply chain, HR, and finance for ensuring a seamless planning and execution. It contributes to improving collaboration and companies can integrate various aspects like budget, forecasts, etc. with ease.
Live Data Connection
It can be easily integrated with SAP S/4 HANA. As a result, it can save enterprise users from making similar changes across multiple files in the cloud-based SAP environments. Businesses can make all the necessary changes in any one location in the cloud that reflect everywhere without any manual intervention in the system. In a way, live data connection can save both time and effort while enabling companies to maintain accuracy of data.
A Details About SAP Analytics Cloud Costing
The SAP Analytics Cloud cost depends on various factors like implementation, data migration, training, etc. The SAC offers a free trial and its license plan starts from 30 EUR per user per month. If we compare the SAC cost to the industry average, it is less expensive.
SAC Business Intelligent software is useful for SMBs and large-sized businesses alike. Different sizes of businesses can opt for the software at different prices. For example,
Small Businesses
A single account business intelligence software can cost between $10-$50 per month. If small businesses want the BI software for multiple accounts, they need to pay between $300-$500 a month.
Mid-sized Businesses
A business intelligence tool for medium businesses costs around $50-$500 in line with the number of accounts.
Large Businesses
BI software packages for large businesses costs between $500-$10000 a month for a large workforce and around $60 a month for a single account. However, these costs greatly differ based on various aspects.
Do you know?
Functionalities of SAP Analytics Cloud: Real-time data analysis, better planning for the business, and predictive analytics. It's just basic functions of SAC. Following are the main functionalities.
Business Intelligence
Planning
Predictive Analytics
Finding an exact cost of SAP analytics cloud implementation cost is difficult because the overall cost includes the license cost, subscription fees, training cost, hardware, customization, maintenance, and other related costs. It is better to consider all these costs to understand the system's TCO (Total Cost of Ownership). You can consult a trusted SAP Business One partner to get accurate SAP analytics cloud pricing.
Why Should you Adopt SAP Analytics Cloud?
Every time, confident and real-time business decisions require robust data analytics. SAP Analytics Cloud BI can fulfill this requirement effectively.
Here are some of the top reasons why you should adopt the SAC for ensuring the growth of your business.
Discover, analyze, plan, and predict in a single point
Make insightful decisions with the combination of data management and analytics
Get high scalability to address the strategic and tactical business needs
Plan and execute various core processes based on actionable insights
Increase accountability and engagement with the data
Predict potential outcomes precisely and detect KPI drivers
Improve collaboration and communication with the real-time data access
Simply put, implementation of the SAP Analytics Cloud can take your business to a new level in a short time. Here is some useful information about SAC implementation.
SAP Analytics Cloud Implementation Guide for Your Business
Whether you own a mid-sized or a large-scale business, it is always beneficial to integrate SAC into your existing system. You can define all the requirements and make a roadmap for implementing the SAC platform. A trusted SAP Partner can help you make the SAC implementation strategy and handle the entire process along with training and regular maintenance.
Conclusion: SAP Business Analytics Cloud
SAP business analytics cloud is useful for SMEs in multiple ways. However, it is necessary for you to find a Reputed SAP partner to leverage the benefits of SAP analytics cloud software for your company. Hope this comprehensive guide will give you a clear picture of the role of SAP Analytics Cloud (SAC) in business intelligence.
Silver Touch is a renowned with a vast experience in SAP B1 implementation, SAP B1 add-on development, SAP B1 support, and integration of (SAC) in various companies across different industry sectors. Whether you want to know more about how we can assist you to boost business growth using SAP cloud solutions or integrating SAP B1 into the existing system, simply drop us a line at sap[at]silvertouch[dot]com, and our expert SAP consultants will get back to you soon.
Get Started with SAP Analytics Cloud - The Single Cloud Solution for Business Intelligence
FAQs about SAP Analytics Cloud for business intelligence
What is the use of the SAP analytics cloud?
Data analysts and decision makers can visualize, plan, and make meaningful decisions in real-time based on effective data analysis with the SAP Analytics Cloud.
How does SAP Analytics cloud work in business intelligence?
SAP Analytics Cloud (SAC) is a SaaS platform for business intelligence. It uses Machine Learning (ML) technology to perform data cleaning and other features. Its modeling feature can enhance the corporate data and provide users with deeper data insight.
What is SAP Analytics Cloud for business intelligence?
SAP Analytics Cloud for business intelligence is a SaaS-based tool developed by SAP company. It offers all the key functionalities of planning and data analytics for SMBs and large businesses.
How can SAP Analytics Cloud help in business?
SAP Analytics Cloud can synchronize data from various sources in real-time and collect it at a single point. As this tool runs on the cloud, it can integrate, process, and analyze information to provide valuable insights for businesses of all sizes globally.
What are the benefits of the SAP analytics cloud?
The biggest benefit of the SAP Analytics Cloud (SAC) is it enables users to make decisions in real-time. Other benefits include enterprise planning, collaborative planning, live data connection, and many more. In simple words, SAC can give your business a competitive edge with a high ROI in a relatively short time.
What are the benefits and features of the SAP Analytics cloud?
As a robust, SaaS-based software, it offers many benefits to SMBs and large-scale businesses. Some of its major benefits include real-time cloud-based insights, swift and seamless data access on the move, collaborative planning, and live data connection. SAC can offer all these benefits with its advanced features like Enterprise Planning, Augmented Analytics, and Zero-based Budgeting.