Importance of SAP Business One in the Wholesale Distribution Industry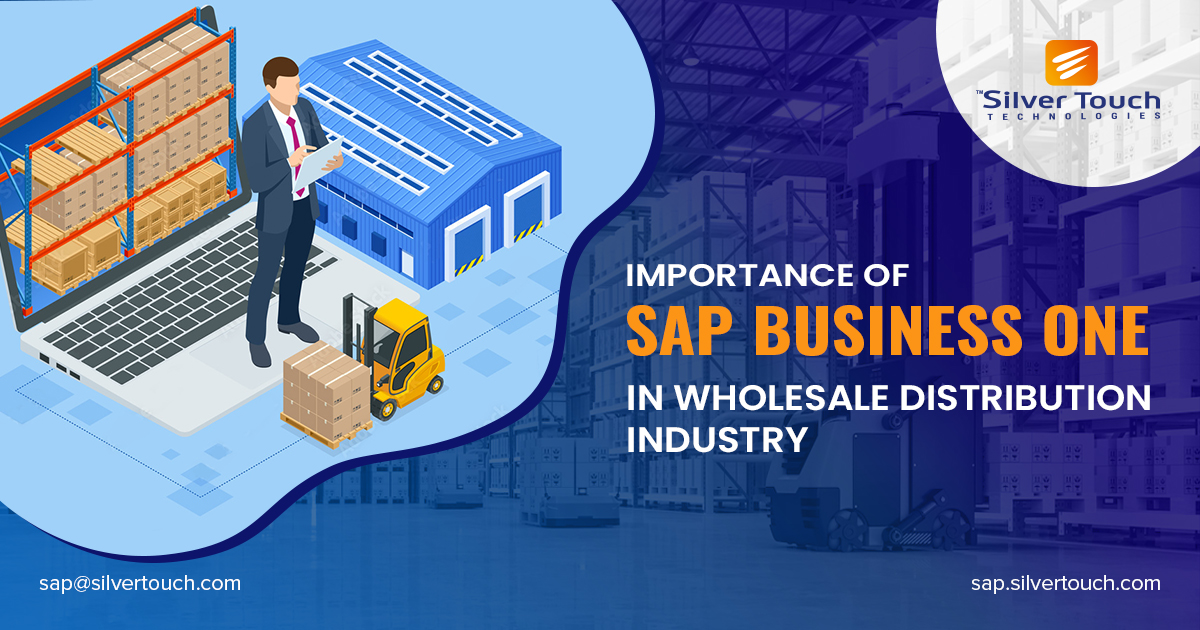 The wholesale distribution industry is constantly evolving, with new challenges and opportunities emerging every day. To stay competitive in this fast-paced industry, wholesale distributors need to manage their operations efficiently and effectively. That's where SAP Business One comes in. As a comprehensive enterprise resource planning (ERP) software, SAP Business One provides wholesale distributors with a range of functions and features that help streamline operations, improve efficiencies, and boost profitability. In this blog, we will explore the importance of SAP Business One in the wholesale distribution industry and how it can help distributors overcome challenges and achieve success in a competitive market.
Common Challenges Facing Distributors and Wholesalers?
Inefficient delivery and routing logistics processes
Losses and control of stock balances
Fleet management or freight contracting costs
Too many operational processes and little focus on the company's objective
Planning and scheduling of deliveries (picking and packing)
Lack of automation of Approval and Workflow processes
Manual control of targets and indicators
Calculation in excel of the company's DRE and Cash Flow
Wholesale and distribution
Thanks to the SAP Business One system, you can improve your entire business management, from demand planning and inventory management to logistics management. You achieve optimal commercial services thanks to integrated and flexible processes.
Retail and Stores
Thanks to SAP Business One, you can offer your customers products, information and a personalized shopping experience, whatever the channel. With real-time customer and point-of-sale data, you increase customer engagement, from marketing to logistics.
Industry specific business software
Silver Touch
has developed specific applications (add-ons) for wholesale and retail trade and distribution: from a tailor- made checkout system, through a salesmate sales application, to applications to create more efficiently collections with different sizes and colors.
ERP in the cloud or on premise
It's not just industry-specific features that are important in an ERP. Every manager will one day face the cloud or no cloud dilemma. Do you want an ERP entirely in the cloud or rather an on-site installation? With
SAP Business One
, anything is possible. Really!
Main Benchmarking to be explored
:
Cash Flow Forecasting
Make informed decisions instantly and ensure favorable liquidity ratios
Delivery schedule management
Prioritize customer orders through a drag-and-drop interface and ensure on-time deliveries
Smart Forecasting
Implement optimized inventory management techniques that improve efficiency and increase profits
Sales recommendation
Suggest other items in real-time based on customer order history buying patterns
Optimize Sales Processes
Automate the Outside Sales process, add orders, see inventory, customers, CRM, and much more. Organize the Delivery and Assembly process, defining better delivery routes, teams, vehicles, and consult status. All this with features of routes, GPS location, Photos, capture customer signature.
For Distribution
In a highly competitive marketplace, wholesalers and distributors have little room to maneuver. To be successful, they must differentiate themselves by excelling in customer service and maintaining price competitiveness. Excellence in customer service, choosing the right range of products is obviously critical. But other than that, no stock-holding, fast shipping, efficient returns handling, and proactive complaint handling are very important. Price competition is high and margins are constantly under pressure. Wholesalers and distributors need to continuously strive to simplify and optimize their internal processes as much as possible - from sales and shipping to warehouse management. SAP Business One business management and enterprise resource planning (ERP) solution integrates sales, finance, banking, purchasing, manufacturing, inventory management, and customer relationship management. Used by over 30,000 customers worldwide, it's an affordable way to improve business processes and reduce costs. Increasingly, customers and suppliers are feeling the need to reach a new level of automation, the need to integrate and integrate existing systems, in an ongoing quest to reduce costs, increase efficiency and increase profits.
What are the main challenges of the Wholesale Distribution Industry on a daily basis?
Bureaucracy
Wholesale distributors need to be aware of current legislation, so that legal problems do not arise, the company's reputation declines, and even the risk of closure. So, be sure to comply with sanitary control regarding the facilities and storage of products, which tend to have more contamination problems than many other Industries. In addition, it is necessary to inform yourself about the parameters recommended in the installations of the industry and about the Operating Permit. All these issues are bureaucratic and may take some time to resolve until your establishment is ready to operate. In conjunction with this point, logistical difficulties may occur.
Logistics
The success of this type of enterprise depends on how well managers know the distribution and the commercialization chain of this type of business, since it has specific characteristics, and it is necessary to learn to adapt to them and have good planning for better results. In other words, Wholesale Distribution market sales can be direct and indirect, and the type of distribution also has different methods. Understand more below:
Indirect Sale
Each of the sales types presents challenges that need to be overcome, especially if your goal is to exponentially grow your business. So, know that indirect sales tend to have a greater volume of purchases and buyers with higher bargaining power. In addition, there is also the possibility of doing business directly with supermarkets, which have increasingly established themselves as points of sale and sale. Whatever type of sales and distribution you adopt, dealing with the necessary logistics and ensuring the quality of the products is always a challenge that, if not overcome by your Wholesale Distribution Industry, will possibly be overcome by the competition. After all, the distribution of the product is directly related to the final price for the consumer. When you don't have the right planning, it can drive buyers away or decrease sellers' profit. Still, it is a fact that the lack of infrastructure, poor conservation, and waste also interfere with prices.
SAP Business One's Key Features for Wholesale Distribution
Order management - manage cash - from customer orders, set up deliveries and update stock balances for invoices and payments or collections
Inventory management - across multiple warehouses using FIFO, moving average or standard costing
Inventory tracking - moving between warehouses, including shipments, shipments and other orders; performing inventory and counting cycles
Serial and loT number management
Reducing cash costs - while meeting current and seasonal consumer demand
Future Inventory Calibration - Inventory is constantly calibrated to match specific item, product category, seasonal demand and individual customer requirements
Industry-leading recruitment simulation, achieves maximum efficiency by replacing traditional low/high forecasting methods
How SAP Business One Benefits Wholesale Distribution
Efficient order management does not allow you to lose trading opportunities; shorter cycle time improves cash flow and inventory turnover
Immediate return on investment - in most warehouse management and distribution scenarios, freeing up the cash that is associated with excess inventory.
Improved gross margin - thanks to flexible price lists by date/volume/customer and gross margin approval procedures, efficient decision-making process due to greater visibility and real cost of orders
Greater visibility into inventory, sales, lead tracking capabilities, profit targets, ranges and areas to instantly measure business performance, improve forecasting
Reduce costs by streamlining inventory management - reduce overstock or waste, paperwork and costly shipments
Increased profits - increased customer satisfaction through faster and more accurate order processing
Improved Inventory Management - Reduce inventory, cut costs. Modern tools for managing the time of material preparation and order delivery
Automation - integration with suppliers, logistics companies and large retail chains
Improved traceability means more efficiency in returns, warranty and recall processes.
How does a SAP Business One help a Wholesale Distribution Industry?
As mentioned, a Wholesale Distribution Industry faces numerous challenges that can directly interfere with its sales volume. For this reason, there are management systems that help the industry overcome such obstacles, especially those related to logistics, such as SAP Business One. This is because there are numerous steps to be developed in the distribution. One of the benefits of the software is that they are organized by business area and prioritized, such as:
Inventory control
Management of orders and sales orders
Financial management
Delivery logistics
Issuance of invoice and bank slip
Important indicators for monitoring
Inventory Control
It is especially important to control these factors as it is Wholesale Distribution Industry with short maturity and high turnover. In this sense, the management system performs automated stock control of:
Remaining amount
Indication of the moment of purchase and the necessary demand
Quantity of products that may have expired
Orders that may not have been sold due to a lack of product in stock
Order and Sales Order Management
The management system must be able to handle all the basic processes that involve ordering and sales orders, such as customer registration, inventory, price list, ordering, etc. For this, it has features that optimize the process. It is the case of:
Instant access to stock
Access to all customers of the card
Price list by type of customers, considering the trading conditions of each one
Financial Management
Having a business management system simplifies accounts receivable and payable at the Wholesale Distribution Industry. This is because it allows the integration of accounts, which avoids entering the bank's website to make the payment, in addition to counting on the reconciliation of bank statements.
Delivery Logistics
Having a management solution in delivery logistics is essential for providing more organization to the process. After all, the software has:
organization of orders by routes, zones, time, etc.
validation of item weighing and change to correct quantity if necessary;
return of undelivered orders etc.
As it became clear, adopting a management system, such as SAP Business One, in the strategies of the
Wholesale Distribution Industry
can help overcome existing challenges and optimize processes.